HOME – Berkshire County MA

Berkshire County, Massachusetts
Law and government
Like an increasing number of Massachusetts counties, Berkshire County exists today only as a historical geographic region, and has no county government. All former county functions were assumed by state agencies in 2000. The sheriff and some other regional officials with specific duties are still elected locally to perform duties within the county region, but there is no county council or commissioner. However, communities are now granted the right to form their own regional compacts for sharing services. See also the League of Women Voters of Massachusetts page on counties.
Geography
According to the U.S. Census Bureau, the county has a total area of 2,451 km² (946 sq mi). 2,412 km² (931 sq mi) of it is land and 39 km² (15 sq mi) of it (1.58%) is water.
Demographics
As of the census² of 2000, there were 134,953 people, 56,006 households, and 35,115 families residing in the county. The population density was 56/km² (145/sq mi). There were 66,301 housing units at an average density of 27/km² (71/sq mi). The racial makeup of the county was 95.02% White, 1.99% Black or African American, 0.15% Native American, 0.99% Asian, 0.04% Pacific Islander, 0.59% from other races, and 1.23% from two or more races. 1.69% of the population were Hispanic or Latino of any race. 16.5% were of Italian, 16.4% Irish, 10.8% French, 10.3% English, 8.0% Polish, 7.1% German, 5.8% American and 5.1% French Canadian ancestry according to Census 2000. 94.1% spoke English, 1.6% Spanish and 1.1% French as their first language. There were 56,006 households out of which 27.50% had children under the age of 18 living with them, 48.00% were married couples living together, 11.00% had a female householder with no husband present, and 37.30% were non-families. 31.60% of all households were made up of individuals and 13.90% had someone living alone who was 65 years of age or older. The average household size was 2.30 and the average family size was 2.89. In the county the population was spread out with 22.40% under the age of 18, 8.40% from 18 to 24, 26.40% from 25 to 44, 24.90% from 45 to 64, and 17.90% who were 65 years of age or older. The median age was 40 years. For every 100 females there were 91.70 males. For every 100 females age 18 and over, there were 88.10 males. The median income for a household in the county was $39,047, and the median income for a family was $50,162. Males had a median income of $36,692 versus $26,504 for females. The per capita income for the county was $21,807. About 6.50% of families and 9.50% of the population were below the poverty line, including 12.30% of those under age 18 and 7.20% of those age 65 or over.
History
Berkshire County was originally inhabited by the Mahican (Muh-he-ka-neew) Native American tribe, until the early 1700's when the first English settlers and frontiersmen appeared around this time and began setting up farms and homesteads, despite the fact that it was Native American land. On April 25th 1724 "The English finally paid the Indians 460 pounds, 3 barrels of cider, and 30 quarts of rum for what is today Berkshire County" (page 5. Wood, David H. Lenox Massachusetts Shire Town. Published by the town of Lenox, 1969). This deal exempted modern Sheffield, Stockbridge, Richmond and Lenox, which were collected at various other dates into English territory.
Cities, towns, and villages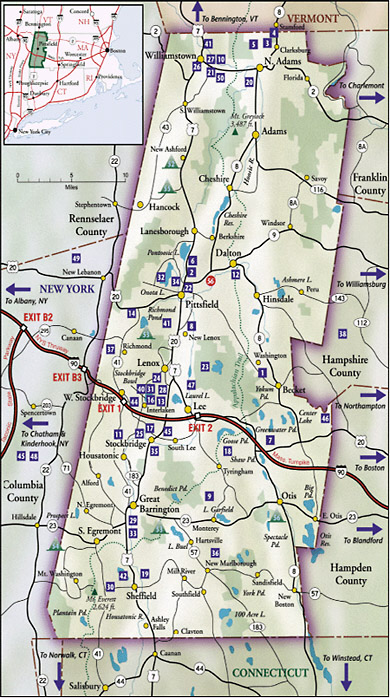 *: Villages are census divisions, but have no separate legal existence from the towns they are in.
From Wikipedia, the free encyclopedia